DFON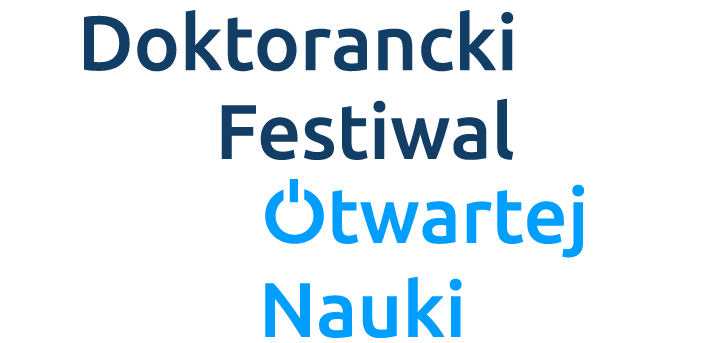 O wydarzeniu
The Doctoral Festival of Open Science is an event which aims to disseminate scientific studies of young researchers. It is also intended to introduce the world of science to people who are not involved in academia on a daily basis, but are passionate about acquiring new knowledge. The speakers (who are currently pursuing their doctorates) will present selected topic in an interesting and accessible way within 5-10 minutes.The speeches are addressed to everyone who is interested in broadening their scientific horizon in the field of humanities, social sciences, exact and natural sciences and interdisciplinary fields, as well as to the university communities of the 4EU+ alliance, i.e. the European Union: University of Warsaw (Poland), Charles University (Czech Republic), Heidelberg University (Germany), Sorbonne University (France), University of Copenhagen (Denmark) and University of Milan (Italy).
The official languages of the event are Polish and English. The festival will be mainly held online (on the ZOOM platform) from 16th to 18th of September, 2021. The day of the conference is planned in a hybrid mode (if the epidemic situation allows it). During the event we encourage you to ask questions and discuss with the speakers about their research. Every active participant will receive a certificate of participation in the event. For the best, we will also provide small gifts. Participation in the event is free of charge.
Event date: 16th September 2021 – 18th September 2021
Deadline for submission of abstracts: 7th September 2021
Deadline for acceptance of applications by the Scientific Committee: 13th September 2021
The location of the festival:Videoconference realized using the ZOOM platform
There will be online coffee breaks and networking opportunities.
Participation in the event is free of charge.
The program of the event includes plenary lectures of the invited guests and speeches by PhD candidates in 4 thematic blocks:
Humanities
Social Sciences
Exact and Natural Sciences
Interdisciplinary
Speeches by the invited guests:
I. dr hab. Michał Tomza "How to train your Schrödinger's cat?", 16.09.2021, 2:30 PM
II. dr Weronika Rokicka "Kasty czy klasy – co bardziej porządkuje życie społeczne współczesnych Indii?", 16.09.2021, 5:00 PM
III. dr hab. Marta Wrzosek "Jak być ekologiem? Z perspektywy pracowni mykologicznej", 17.09.2021, 2:30 PM
V. dr Magdalena Budziszewska "Psychology of Climate Change, 17.09.2021, 7:00 PM"
Registration and schedule
Please register , to vote in the contest for the most exciting speech.
THURSDAY, 16.09, room I – Polish path
THURSDAY, 16.09, room II – English path
THURSDAY, 16.09, speeches by the invited guests, coffee break and networking
FRIDAY, 17.09, room I – Polish path
FRIDAY, 17.09, room II – Mix path
FRIDAY, 17.09, speeches by the invited guests, coffee break and networking
Scientific Committee
prof. dr hab. Alojzy Nowak, The Rector of the University of Warsaw
prof. dr hab. Sambor Grucza, The Vice-Rector for Cooperation and Human Resources of the University of Warsaw
prof. dr hab. Zygmunt Lalak, The Vice-Rector for Research of the University of Warsaw
prof. dr hab. Robert Cieślak, Chair of the Academic Council of Communication and Media Studies
dr hab. Wojciech Dragan, prof. ucz., Chair of the Academic Council of Psychology
prof. dr hab. Anna Giza, Chair of the Academic Council of Sociology
prof. dr hab. Robert Grzeszczak, Chair of the Academic Council of Law
dr hab. Ryszard Kokoszczyński, prof. ucz., Chair of the Academic Council of Economics and Finance
prof. dr hab. Krzysztof Oleszkiewicz, Vice-Chair of the Academic Council of Mathematics and Computer and Information Sciences
dr hab. Dominika Oramus, prof. ucz., Vice-Chair of the Academic Council of Literary Studies
dr hab. Szymon Paczkowski, prof. ucz., Chair of the Academic Council of Arts Studies
dr hab. Hanna Rubinkowska-Anioł, Vice-Chair of the Academic Council of History
prof. dr hab. Wojciech Satuła, Chair of the Academic Council of Physical Sciences
dr hab. Marcin Szymanek, Chair of the Academic Council of Earth and Related Environmental Sciences
Organising Committee
Chairman:
mgr Maciej Kolanowski (Doctoral School of Exact and Natural Sciences)
Members:
mgr Mikołaj Biesaga (The Robert Zajonc Institute for Social Studies)
mgr inż. Katarzyna Bujak (Faculty of Biology)
mgr Michał Goszczyński (Office of Innovation in Teaching and Learning)
mgr Natalia Greniewska (Faculty of Oriental Studies)
mgr inż. Damian Michalik (Faculty of Physics)
mgr Przemysław Mroczkowski (Doctoral School of Social Sciences)
mgr Maria Schulders (Faculty of Management)
mgr Justyna Sobolewska (Faculty of Management)
mgr Paulina Stanik (Faculty of Modern Languages)
mgr Maria Szafrańska-Chmielarz (Faculty of Modern Languages)
Contact:
E-mail: doktoranci@samorzad.uw.edu.pl
PhD Students' Union of the University of Warsaw
ul. Krakowskie Przedmieście 24, room 110 (1st floor)
00-927 Warsaw
tel.: 22 55 20 189